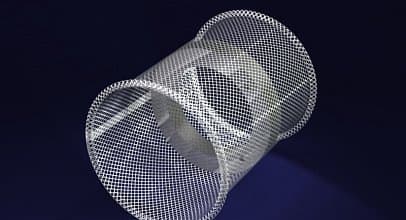 We design and produce shieldings as one of few in the Czech Republic for electrotechnical industry usage in medium and high voltage applications. We are professionals, who have produced over 100 types of shieldings so far.
Our clients use our shielding in transformers, sensors, bushings etc. Countries we export to include Germany, Austria, Netherlands and other EU members as well as countries of the Middle east.
Our shieldings are commonly made of:
wire weaving,
expanded metal.
Materials we use:
stainless steel,
brass,
aluminum.
We mostly work with:
wire weaving – wire radius 0,22 mm, cell size 0,415 mm, DIN 1.4301,
expanded metal - 3,0 × 1,8 × 0,4 × 0,2 according to DIN 791 of stainless steel DIN 1.4301.
These two materials are permanently in stock.
How do typical commission look like
There are two possible means of cooperation
We produce the shieldings according to your blueprints and technical documentation.
If you come up with a request for a new type of a shielding, we are able to design it in cooperation with your engineers. 5-10 new types of shieldings are designed at our company every year. Because of that, we know how to optimize shieldings electrical and mechanical qualities, reduce electrical discharges and minimize the production costs.
Then we produce a sample followed by a sample series. As soon as you are satisfied, serial production can begin.
How do we work
We produce our own tools for cutting and shaping the materials. These materials are processed at our pressures. We also produce machined parts such as inserts, sockets etc. We weld using suture welding, electric resistance welding and soft soldering technologies.
Our capabilities involve more than production – we will take care of the final control, packaging and the transport.
Cooperation with Brno University of Technology (VUT)
In cooperation with professionals from VUT, we take care of:
Calculations of new shielding types including suggestions for improvements in the design in order to improve its electrical qualities and to reduce electrical discharges,
testing the prototypes and serial products.
Are you interested? Contact us to discuss your ideas.